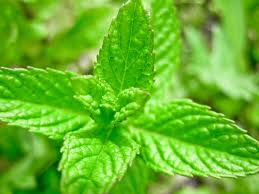 4 oz      $15.29 
Ingredients: Shea Butter / Argan Oil / Coconut Oil / Peppermint Essential Oil / Vitamin B / Vitamin E Oil. NO PRESERVATIVES.
THE PERFECT BODY BUTTER FOR SUMMER,TO SOOTHE AND SMOOTH YOUR SKIN, AFTER SUN TANNING. 
Shea Butter has anti-inflammatory properties that heal and soothe irritated skin: sunburn / itchy scars /  acne.
Deeply moisturizing for dry skin and hair, with its natural Vitamin E, and rare natural Vitamin C to reverse skin aging.
This whipped Shea Butter has a sensual massage slip. It is the most spreadable, natural Shea Butter one can find.
Shea Butter is naturally rich in antioxidant phenols, phytosterols, moisture-locking allantoin, and Vitamin A, D and E – a cocktail to boost skin tone and texture, to a more youthful look.

PEPPERMINT ESSENTIAL OIL 
The Essential Oil is steam distilled from Peppermint leaves, and has been whipped into this velvety Shea butter. Use it for:
Cooling and calming – to inflamed skin, (especially sunburn), and inflamed muscles.
Respiratory decongestant – clears sinuses and opens breathing. Massage over face, throat, neck, and chest.
Anti-nausea – reduce nausea and indigestion. Rub generously over abdomen and back.
The "Exam oil" – an excellent oil to increase mental concentration and energy levels. Apply to neck, throat, and chest.
Repels insects – mosquitoes. Dab a few areas of your body.
Scalp problems – anti-lice / anti-dandruff. Rub well into your roots, a few times a week.
SPECIAL – Enhances sensual pleasures.
PRECAUTIONS – Do not use if you have high blood pressure / Avoid in pregnancy, or if you are trying to fall pregnant / Do not combine with Homeopathic remedies.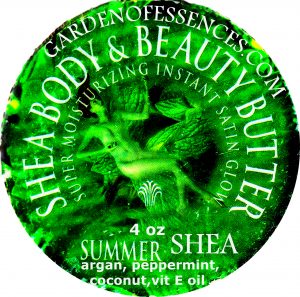 Also available at Etsy.
---
This Body Butter is: Free of parabens, phenoxyethanol and ethylhexylglycerin, all of which are harmful to the skin and toxic to the body. For an in depth article on what we mean by PRESERVATIVE FREE, read our article "No Preservatives in our Products".